WPOC
Western Pennsylvania Orienteering Club
WPOC offers this orienteering event for public attendance during Fall 2017.
| | | | | |
| --- | --- | --- | --- | --- |
| Date | Location | Start Times | Courses | Cost |
| 24 Sep | Boyce Park, Hillcourt shelter | 11 am to 2 pm | Beginner, Novice, Intermediate and Advanced | $6 map donation |
If you would like to find out more, go to our Web site www.wpoc.org
Or call Jim Wolfe at 814 255-6606 or e-mail jlwolfe@atlanticbb.net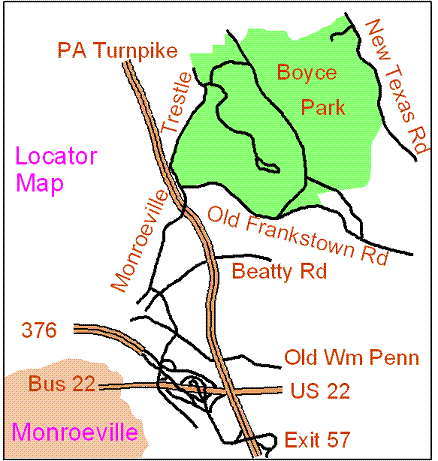 Directions to Boyce Park
From the PA turnpike (Interstate 76), at exit 57, take Business 22 west toward the Monroeville mall and follow the common directions below.
From the Parkway East(route 376) going east, take the Plum exit (84B) to Mosside Blvd; there is also a sign for Boyce Park. Turn right at the light and follow the common directions below.
From route 22 heading west at the entrance to 376, follow Business 22 past the entrance to the PA turnpike and follow the common directions below.
From Business 22 heading east, turn left at the light at Mosside Blvd and follow the common directions below.

Common directions: (see map)
At the first traffic light on Business 22, turn right (north) on Mosside Blvd. There is a Honda dealership and a Hampton Inn on this corner. Go straight through the interchanges to a traffic light where the Old Wm Penn Highway crosses and Mosside Blvd changes into Haymaker Rd. Continue on Haymaker Rd to a Stop sign at Beatty Rd. Go straight; almost immediately you will start down a hill; you should see a large sign that says "Boyce Park" and a road branching to the right; go to the right - this branch is an entrance to Monroeville Trestle Rd, also called Center Rd. (or continue 40 feet down the hill to the Stop sign and turn right there onto Monroeville Trestle Rd). The total distance from Business 22 to Monroeville Trestle Rd is 0.7 miles.
Follow Monroeville Trestle Rd. east and north for 1.6 miles to the entrance to Boyce Park. You will see signs along the way to the Wave Pool in Boyce Park; do not follow them. Once you enter the park, bear left at the first intersection. Drive to the next intersection and turn right; then make an immediate left. You should then see the WPOC banner at the shelter on the left. We will be at the Hillcourt shelter.
Note: The route along Mosside Blvd, Haymaker Rd. and MonroevilleTrestle Rd is also marked as part of the "Orange Belt". You will see signs for this.